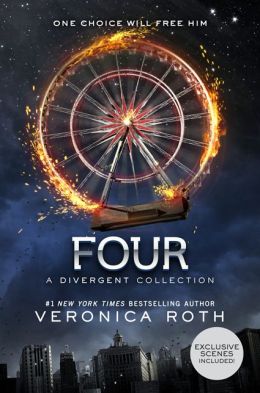 I've been absent for the past few days because I got oral surgery. Not wisdom teeth removal, but I have felt like Isla minus finding a charming fellow named Josh. I have been suffering, not from physical pain but from having to eat oatmeal and soup more than once a day. So, as a treat, I've bought myself a signed copy of Four: A Divergent Collection by Veronica Roth. And how do you benefit? Well, I'll tell you all the details so that you can get your copy too.
A little while ago, you could preorder a signed copy from Barnes and Noble. Don't even bother anymore, trust me. She already signed the 6,000 copies, and they were all ordered.
However, you can get a signed copy if you come out to the Four Tour! But, the Four Tour only consists of four stops. Surprise, surprise.

BOSTON - July 8: Veronica Roth Solo Event at 7PM
Nevins Hall
Memorial Building
150 Concord Street
Framingham, MA 01702
*books sold by Barnes & Noble
For information, please call: 508-628-5567
ATLANTA - July 10: Veronica Roth with Marie Lu at 7 PM
Agnes Scott College
Presser Hall
141 East College Avenue
Decatur, GA 30030
*books sold by Little Shop of Stories
For information, please call 404-373-6300 or visit

http://www.littleshopofstories.com/events.php
DENVER - July 15: Veronica Roth with Margaret Stohl at 7 PM
Tattered Cover Highlands Ranch
9315 Dorchester St
Highlands Ranch, CO 80129
For information, please call: 303-322-1965
LANSING - July 16: Veronica Roth with Phoebe North at 7 PM
Schuler Books & Music
2820 Towne Center Blvd.
Lansing, MI 48912
For information, please call: 517-316-7495
If you do plan on coming to one of these events, you should know that there will be no signing lines. All of the Four books will be presigned, and it will only be a talk with Veronica.

What to do if you don't live near any of these cities?!?

Honestly, this is the best situation because you can still get your book without having to travel.

HOW?

Well, I've done the research for you, and

Schuler Books

offers signed copies of Four for $17.99 and shipping is $1. You can be a total recluse! Truly, though, this is the best option because should you attend the event in Lansing, you may be standing if you were not one of the first 100 to buy a ticket. And, you wouldn't have the option of just getting Four. You'd get a copy of Starglass by Phoebe North too.

You're welcome in advance for all of this insight. Hahaha, but I really hope that this was helpful.

Leave me a comment and tell me which Divergent book was your favorite.

x Carly