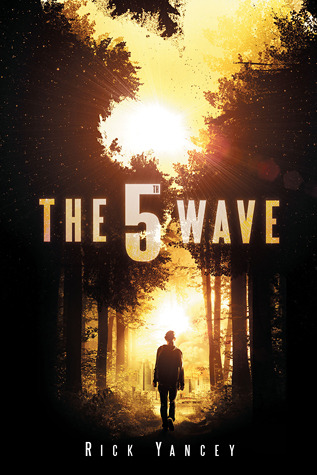 THE FIFTH WAVE by Rick Yancey
My rating: 5 stars
Goodreads rating: 4.17 stars
After the 1st wave, only darkness remains. After the 2nd, only the lucky escape. And after the 3rd, only the unlucky survive. After the 4th wave, only one rule applies: trust no one.

Now, it's the dawn of the 5th wave, and on a lonely stretch of highway, Cassie runs from Them. The beings who only look human, who roam the countryside killing anyone they see. Who have scattered Earth's last survivors. To stay alone is to stay alive, Cassie believes, until she meets Evan Walker. Beguiling and mysterious, Evan Walker may be Cassie's only hope for rescuing her brother--or even saving herself. But Cassie must choose: between trust and despair, between defiance and surrender, between life and death. To give up or to get up.
Here I am making use of time while my flight is delayed;)
Overall, as you can see by my rating, I really enjoyed The Fifth Wave. I picked this book up when it first came out because it had been getting good reviews, but I never read it until now to get ready for the movie. In fact, I wasn't really sure what the book was about until I saw the movie trailer.
The plot is engaging, and Yancey writes the prose in such a way that is exciting, thrilling, and intense. Intense enough to make me question what the movie was going to be rated. The choices for the waves are interesting and very believable of being capable to wipe out the planet. If I hadn't read a spoiler, I would have been shocked at one of the plot twists. I was on the edge of the pages of the book it was so exciting. As another reviewer mentioned this book lies between Ya and adult which was nice since I'm trying to move away from YA.
I enjoyed the characters as well. Cassie is brave, but I like her humor the most. She is a bit childish in the beginning, but she was only sixteen then, and she grows over thee course of the book. However, I have to say my favorite character is Evan. Though some reviewers said his relationship with Cassie was creepy, I liked him. Maybe their relationship had an unconventional start, but he treats her well and his flirty sense of humor is appealing. Another favorite of mine was Ringer who took no nonsense from anyone and was very headstrong.
Go read the book. It's great. Don't watch the movie unless it is purely to stare at the beautiful actors. I will be posting a review of the movie soon.